I L.O.V.E. Whistler. I am officially all about team Canada … a wanna be ski-pro. I'm basically the driver of the Whistler band wagon. And the best part is I didn't even feel like I had to ski dawn to dusk – I lived my best life stopping for fondue, sabering champagne and après-ing with 1,000 of my new best friends. And to think this trip came about only 9 days before we departed.
Even though John (my boyfriend) and I both love skiing, we hadn't had a chance to go together in the last few years. So naturally – when he got a call from a friend with an invitation to join their trip – we decided to pull a Mark Manson and be like F*** yes (must read).
Ok – so Whistler.
I grew up skiing out west but never ventured to Canada. I now feel like I was completely deprived as a youth. Just kidding D&M. Whistler is everything I have ever wanted and more – a chic town with bustling energy and endless slope options for almost any level skiing. It doesn't hurt that the foodie scene is on pointas well.
When I only had 9 days to plan, I felt panicked. I quickly learned there were more things I had to wanted to do than time I had during a limited long weekend. Now, I am creating the perfect long-weekend itinerary for you!
Where to Stay
A quick history lesson – Whistler is actually Whistler Blackcomb … which used to operate as two separate resorts. With the installation of a Peak 2 Peak gondola, and some fierce business men and women rocking their negotiation skills, they became one resort in the early 2000s. Together they are massive, but in a way you're sure to love. When deciding where to stay, I'd keep it simple and look at it as basically two options on 'area':
1. Whistler Village/ Village North
This is the mecca of Whistler and I.M.O. the best area to stay in. It has high-speed gondolas in walking distance and an endless array of shops, bars, restaurants, art galleries and aprés scene. I loved that is was a pedestrian-only Village with some serious style.
Aava – "the I want it all and a good deal" option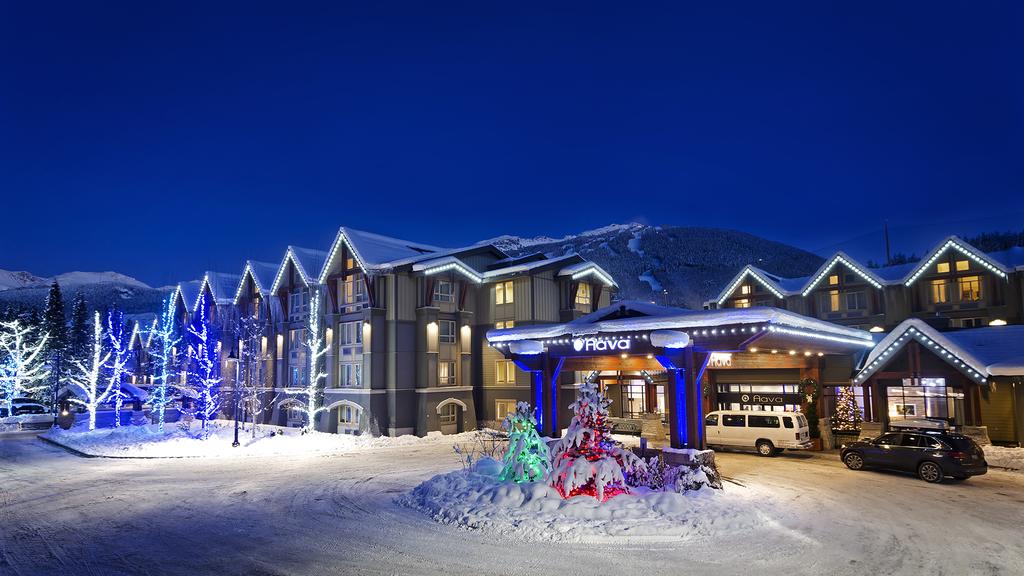 This is where we stayed and I thought it was perfect. It's a two-minute walk to Whistler gondolas and has all the amenities you'd come to expect at a five star resort. The staff was awesome, and helped me whiddle down the 100 + places I waned to go in one weekend, and shared their local's knowledge for the best spots. They made it extremely easy to ski with our own ski lockers, and a complimentary service to dry your boots out overnight. But I would be remiss if I wasn't honest – by favorite part was the outdoor (large) hot tub situation where we were able to relax and look at the mountains and stars. Great bang for buck.
Westin – "a mountain view luxury option that has it all" option
A bit more luxe than the Aava, but also located in the heart of Whistler Village. I didn't know I needed a fire-place in my hotel room until finding out that they have that…. and an award–winning spa doesn't hurt either. I should also mention they have two great restaurants, which makes it all the more convenient.
Adara Hotel – "I hate walking in my ski boots and don't want a car" option
Located actually in town, I would rock this option if I didn't rent a car and wanted to stay right in town. Super chic with floating fireplaces (kind of a one upper move eh?) and amenities common in other options – ski rentals and repairs in house and a great hot tub/pool situation.
Crystal Lodge "I really hate walking in my ski boots, and don't have a car" option
Now if you really hate walking in ski boats, this is the place for you as it is essentially as close as humanly possible to the gondolas. Its top-tier location, and they have a really cool bar that a lot of the locals go that has games that will bring you back. We played Guess-Who (#tbt) and listened to live music so overall a great option.
2. Upper Village
This is the Blackcomb side and if your balling without a budget, there are two awesome options for you:
Four Seasons – "Elevated luxury on the Blackcomb base" option
A 5-star luxury option that takes all the amenities of the others and truly one-ups. Located on Blackcomb Mountain, it is a short walk to Blackcomb base – where you will be greeted by their Ski Concierge service, who stored your skis etc overnight. AND if you want to start on the Whistler side, they'll get you on their shuttle over there.
Fairmont – "I need a fairytale winter palace vibe" option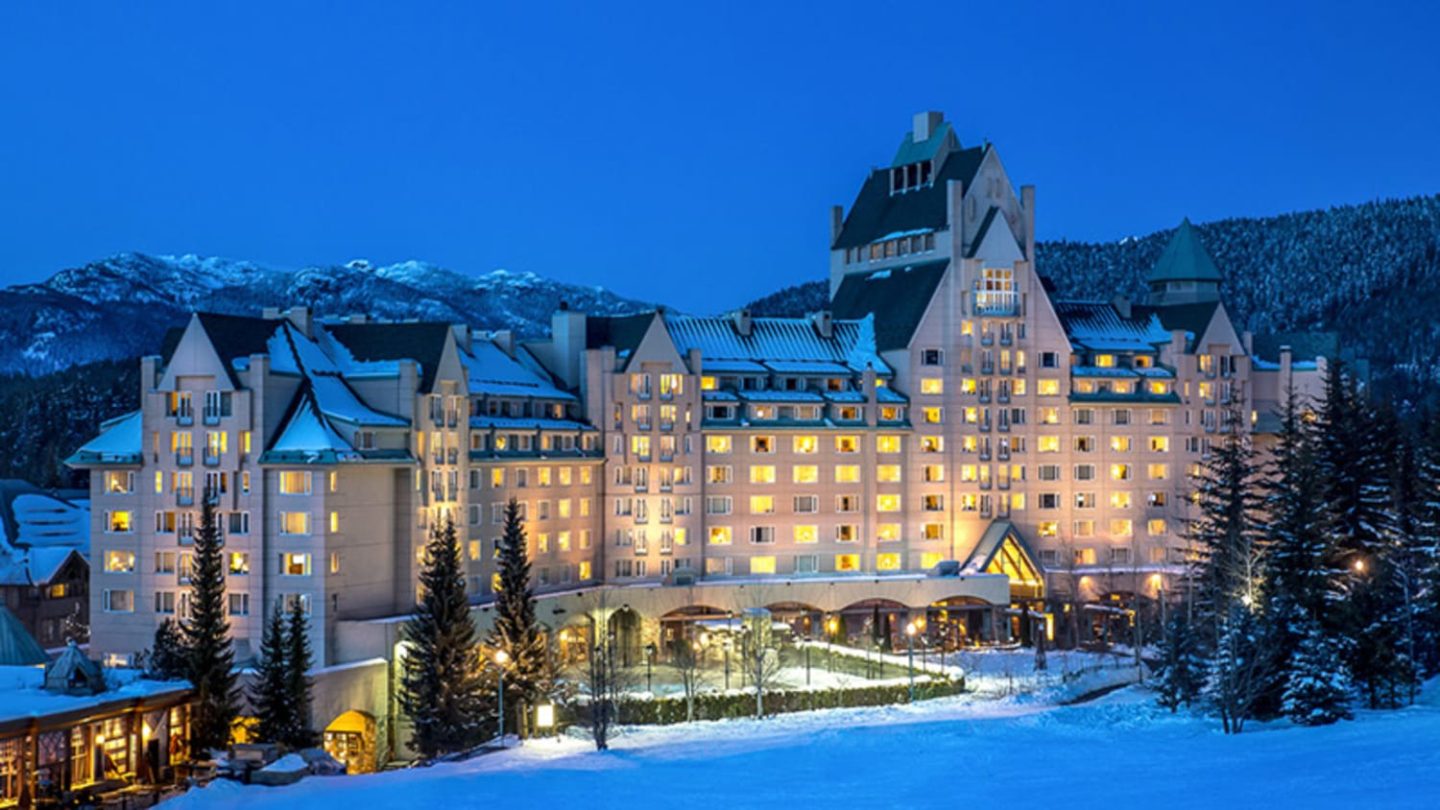 OMG – I should mention its actually the 'Fairmont Chateu Whistler " and what is more chic than a Chateu? Nothing is. The Chateu itself looks like a palace, and even from the steepest run on a cloudy day, you can see it from the very top. While the rooms and amenities are on point, I have to say I think their restaurant(s)/ spirit room (bar) options are my favorite of the bunch.
Where to Après
Once you nail down where to stay, and prep for skiing/snowboarding, (below more details on that), you'll want to map out some good après-ski options for just after lunch or at the end of the ski day (3/4PM). I should preface – we visited when it was a college weekend – so there were busses of 19 year-olds coming in hot and taking over the town. I have never felt more old than when it was a Friday night at a bar (freezing rain) and I was in my winter wear and girls showed up ready to GO in crop-tops and skirts (no tights). If I'm honest I was impressed but also felt more cold just looking at them.
Here's the list I put together and loved: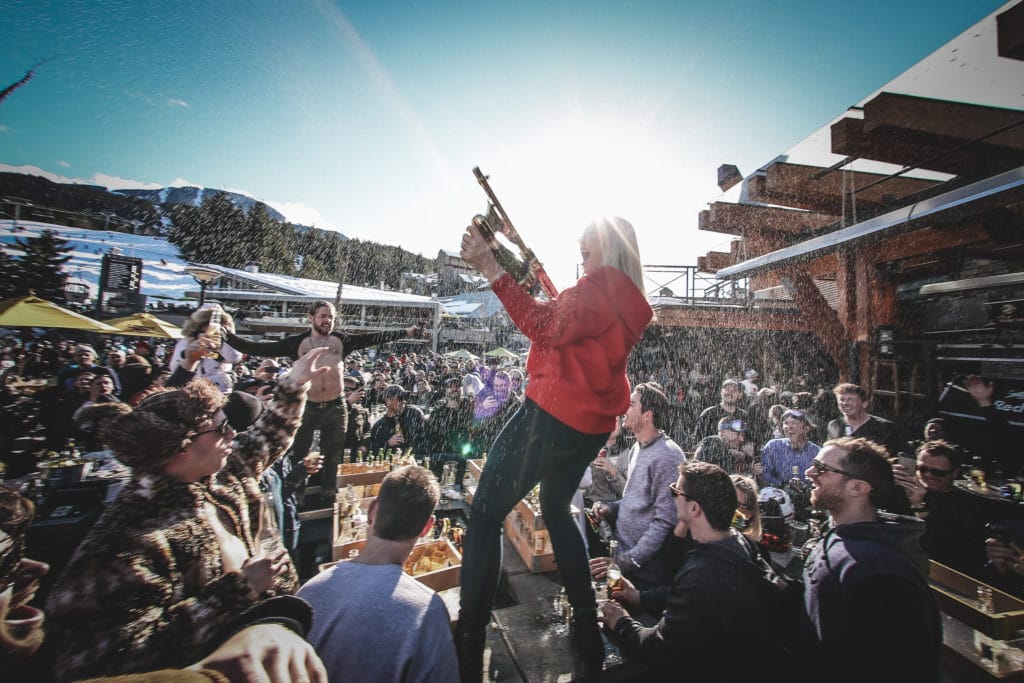 Longhorn Saloon and Grill | Atmosphere: Moderate to Rage-r
This place is legit. Like seeing the Fairmont Chateu Palace on the Blackcomb side from the top, you can equally see yellow umbrellas coming down the Whistler side mountain at the end of a long ski day. They do it all -people dancing on tables, champagne showers, great music. The weekend we were there (college weekend) was a sight to be seen (table bookings, lines starting at 11am with people who def weren't there to ski), but I've heard it's normally more a 'craft beer, great music, and steaks on a sunny patio' vibes.
Garibaldi Lift Co. (GLC) | Atmosphere: Moderate
Located above the Whistler Gondola building, Garibaldi Lift Co. is perfect for people watching, watching sports, or listening to live music. It's also the perfect place to post-up on a Sunday night to see Whistler's Fire and Ice show from their outdoor patio – with heaters and blankets.
Dubh Linn Gate Irish Pub | Atompsphere: irish pub goals
This place is insane and you'll have to drink a Guiness. I loved sitting outside by the fire pit, but the inside is even more energetic with traditional irish music and always a packed house.
Black's Pub | Atompsphere: Divey hidden treasure
We literally went here because the college kids (who WEREN'T EVEN SKIING) crowded everywhere else with lines, but if I am being honest I ended up loving it. We sat inside upstairs an played drinking games with pitchers of beer for hours.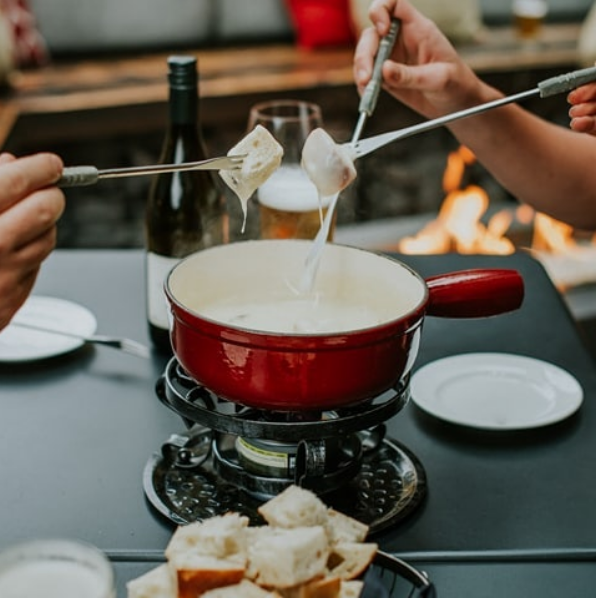 Balsalt Wine + Salumeria | Atmosphere: wine sipping with fondue
This is one of my favorite places we went. They have a drool worthy menu at Basalt Wine + Salumeria. They have European style meat and cheese boards, Fondue and mulled wine…perfect for après, a big brunch or dinner. Loved their patio as an option as well!
For the foodie in you
Bar Oso | The Cellar | 150 – 4222 Village Square, Whistler
If you know me, you know I love Oysters. On our last day, I ended up needing to spend a few hours working. I tried to hit up Araxi's for some oysters while working (normal), but it was closed. I stumbled to Bar Oso, a few doors down (same owner) and it was perfection. A classy establishment that delivers great wine and Spanish fare.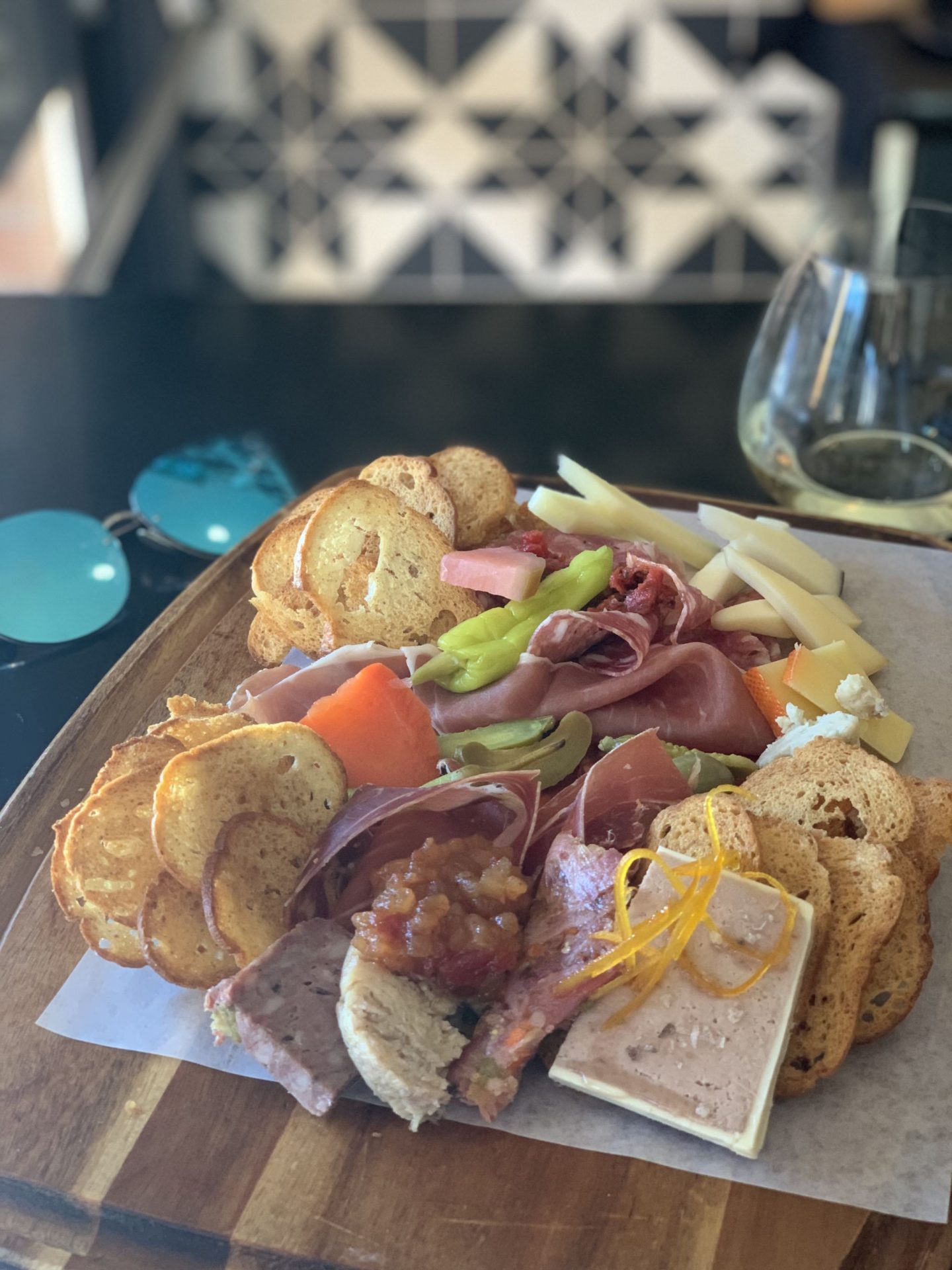 Bearfoot Bistro | 4121 Village Green
This place is my dreams come true – with a dedicated oyster-shucker, sommeliers, live music, and a bomb tasting menu, the only things that made it better was trying our hand at sabering a bottle of Champagne (you will be taken to the wine cellar with the purchase of any bottle of champagne or sparkling wine). Recommend this as one of your fancier meals, but is also a good spot for après.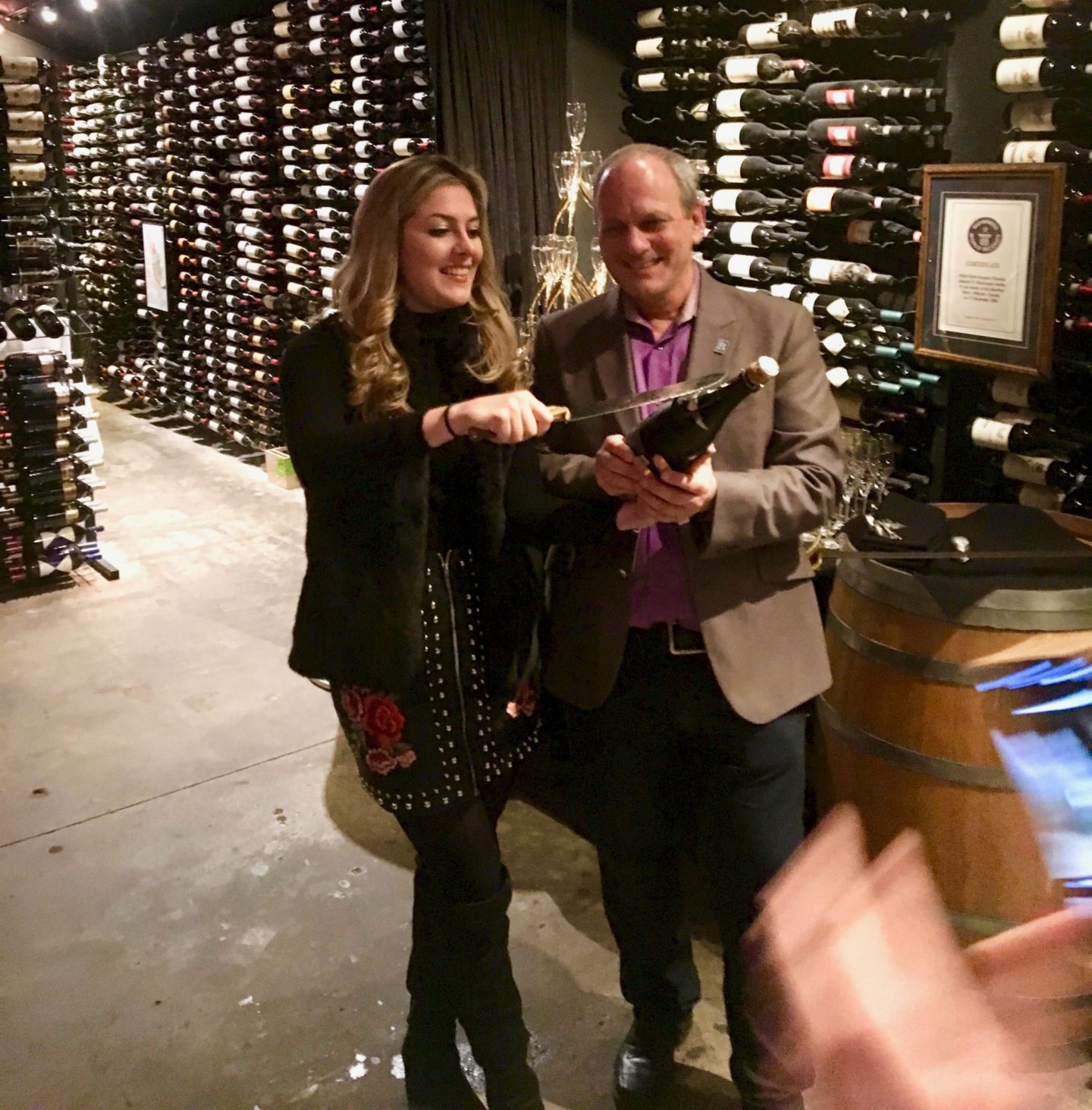 Honorable mentions:
Function junction
Wildflower
Alta
Christine'
Tips for shredding the GNAR
Whistler Blackcomb has 37 lifts servicing over 200 runs across the two mountains, with a vertical drop of around 1,500 metres (5000 feet). My two cents:
The Whistler Peak 2 Peak Gondola: Make sure you experince this when going between sides. If you want to wait, you can ride one with a glass bottom.
New/Beginner? Whistler offers more green runs than Blackcomb, so it's better for beginner skiers. Ironically, here are lots of green runs high up the mountain.
Lover of vitamin d like me? It's usually sunnier on Whistler side in the am
Favorite lift: 7th heaven
Spanky's Ladder has our bowls (Ruby, Diamond, Garnet and Sapphire) and is a great place for 'expert terrain'
Activities if you aren't Lindsey Vonn
Scandinave Spa Whistler | 8010 Mons Road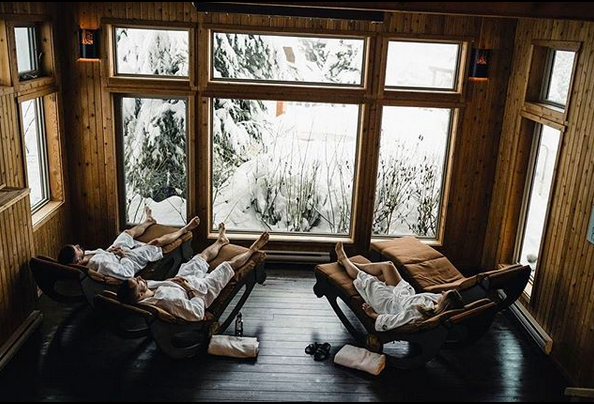 After spending days tearing up the slopes, you deserve some R&R. It's no surprise that I am a spa worshiper, (I mean, who's not really?). and Scandinave Spa Whistler the perfect spot. It is a 20,000 square foot outdoor spa, which is just minutes from Whistler Village.
Helicopter ride | Blackcomb Helicoopter
Honestly it is so stunning from the top. With varying price-points/options, this would be fun if not hitting the slopes. We also saw many people taking part if bungee jumping, snow mobile-ing and other action sports – tons of options.
Whistler Tasting Tour
Whistler is a town a foodie would love. Indulge your taste buds by getting to check out many spots in just a few hours – from fine dining to hidden treasures.
Just tell me what to do: a long weekend itinerary
Before you go: Buy your lift tickets and a pick a morning to do fresh tracks. Everything is cheaper and easier pre-bought.
Thursday night
Fly into Vancouver if you can.
Friday
Spend the day exploring (guide coming soon) or work remotely and take advantage of the three hour time difference in the afternoon.
If you couldn't take a red eye Thursday night, fly in today.
If you were able to check out Vancouver in early afternoon, head up to Whistler in early evening – the route is scenic so recommend going during sunset time (we ended up do evening).
Check in, and head to a casual dinner + walk into a random bar that looks fun.
My recommendation: 21 steps or Basalt.
Saturday and Sunday
In retrospect, I would have probably done the fresh tracks day one. If you buy ahead, you can line up to be the first on the slopes + get a great breakfast at the lodge (go when it opens as they cap it each day, even if you have a ticket).
Ski/snowboard all day. Assess the lay of the land. If there is fresh snow, try to make your way to one of the 16 bowls!
I would stay out till last lift, and then head to Longhorn's or GLC for a beer or cocktail. If you didn't check out Basalt's yet, head there for a lunch or apres on Sunday.
Saturday night I would do a nicer dinner at somewhere like Bearfoot Bistro, Wildflower or Alta.
Sunday we ended up skiing, going to apres and then picking up dinner and booze to take to the outdoor hot tub. This ended up being the perfect night.
Monday
Depending on your flight time, a few options. If you didn't get to check out Vancouver on Friday, you could ski a half day, drive back (and drop off a rental) and check out Vancouver.
If you did check it out, I'd mix in skiing with a last lunch and/or visit to the day spa.
What to wear
Have you been to Whistler? What were your favorite places or things to do?
Thanks for checking out this post – where do you want a guide to next? Check back soon.
X
Kara